What's Wrong with CART?
November 17, 2002
The CART season is finally over. Not that anyone was still watching when they finally waved the "checkered" flag at Kenny Brack.
What the hell is wrong with CART, anyway? Cristiano da Matta won the series a couple months ago, leading me to believe that the season was over ages ago. With CART, this is nothing unusual - given the suck-ass coverage from the guys @ SPEED CHANNEL, one can't even tell when the race is finished. Several laps are often missed in favour of full-screen interviews with out-of-the-race drivers.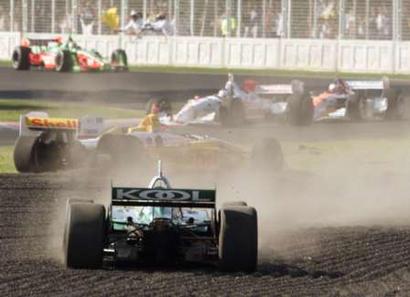 This doesn't mean that any action is missed, however, as 3/4 of the laps run in the CART series are under a yellow flag, anyway. Even with a rolling start, there is seldom a CART race that doesn't have a full-course yellow by the third lap. This is often due to Paul Tracy hitting someone, usually his teammate Dario Franchitti.
CART's pit strategies were always simple - everyone hit the pits and went to take a dump if they needed to during one of the many yellow lights. In the past year, CART has taken more imagination out of race strategy by specifying a mandatory pit window of a series of laps between which all drivers must pit.
Over the course of the year, CART has scaled down to 19 runners, with several teams packing up and running to other racing series. Perhaps this is due to recent changes that have expanded CART beyond an American oval series to a truly international series with only 3 oval races and the rest being circuit or modified street races. This puts an end to the old reason why F1 elitists hate CART racing: "It's all left turns!". At least we can still say that is the reason why NASCAR sucks (that and the trailer trash cavalcade that gathers at every single event).
CART teams and sponsors don't seem to be reveling in the new excitement, however. FedEx has dropped out as the title sponsor of the series, ending a five-year relationship and leaving the series nameless. Also part of a mass exodus are Honda, Chip Ganassi's team, Michael Andretti, and Toyota, who are all defecting to the once-laughed-at Indy Racing League.
CART's presence in Canada is on its way up, having raced three races here this year, including the unprecedented running on Montreal's Formula One track (the F1 guys decided to modify THEIR route this year so you wouldn't compare them). Their Canadian drivers took second place in the "Nations Cup" race that CART has featured ever since it was a taunt by the overwhelming amount of Americans in the series (now, with only three Americans, if you count Townsend Bell, it is safe to say that the U.S.A. has lost control of the series).
No wonder big U.S. $$$ aren't interested anymore. It's a good thing we got them hooked on hockey, as their numbers are going down there, too!