Steve Berezin hits the big time!!!
January 27, 2002

(Okay, so the "Steve Berezin" remark will only amuse two people, but I had to do it!)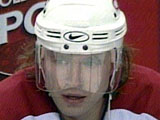 Fresh off the plane from Phoenix, former Leaf (and Paperless fave) Sergei Berezin is making the mark in Montreal that he wishes he could have in Arizona.
By the way, he's doing it with a new number on his back, for an ironic reason:
The storied Canadiens have their share of "good numbers" that have been retired over the years - there's 1, 2, 4, 7, 9, and 16 that are all taken, and of course, 99 is off limits, as are 86 and 69! This leaves a Habs team with a great deal of "high numbers", including Joe Juneau (90), Doug Gilmour (93), and a guy with Sergei's number...
"Hey! Yanic Perrault's on this team, and he's wearing the number that I had when we were Leafs!" may have been the words out of Berezin's mouth when he arrived in Montreal. There's a bit of irony in this situation, as Berezin was sitting comfortably on the Leafs lineup with #94 when Yanic Perrault arrived from the L.A. Kings a few years ago, forcing Perrault to "remunerate" to #44. When he was traded to Montreal, Sheldon Souray already had Yanic's #44 jersey, forcing him to choose the number of an old linemate, Sergei Berezin.
When Sergei arrived in Montreal, he, like Yanic, and because of Yanic, needed a number, settling on #95 (one louder?).
Yeah, so what's the real story here, Paperless? Did Berezin declare his love for poutine as soon as he entered the dressing room?
No, he scored his first goal for the Habs (8th of the year), which also happened to be the game-winning goal (fifth game winner this year), as well as the 10,000th goal in the storied franchise's history.
Paperless, who heard it all in French (partially because TSN's Vic Rauter is so fucking annoying), congratulates Berezin and wishes him the best for the rest of the season. He also secretly hopes that the Habs abduct Danny Markov to confuse people (they already have a Markov, no relation...).