Still Kool
November 18, 2001
Whenever it's slow, the Paperless One will just throw one or two of these puppies your way: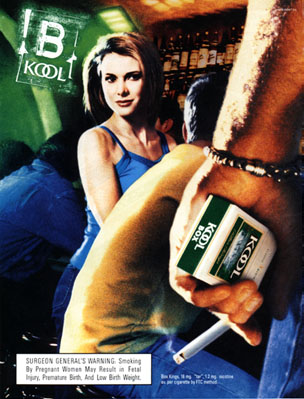 Faster than Rosie O'Donnell can say "Remember gum?", we say, "Remember Kool?".
The images presented in this ad are no stretch from those in the last few we presented over the past year - all feature a woman with wandering eyes fixated on the Kool smoker in the foreground.
Once again, we also have a smoking green skull glaring in the same direction as the girl in blue - a common image that graces many of these ads.
We also have something creepy happening in the the fold patterns of the shirt of the "middleman". Can you see them?
Also, check out the pattern on Joe Kool's watch band or bracelet (or whatever it is). We have speculated about the pattern appearing in all the other ads, and here it is again.
The Paperless One is almost sad that cigarette advertising disappeared again in Canada. We're missing out on such sweet subliminals.
Send in your subs to subliminals@egulphy.com.