Macarena of Death
May 27, 2001
The Paperless One is creeped out after seeing footage of the wedding hall in Jerusalem collapse and swallow hundreds of dancing family members.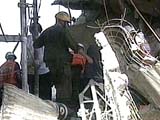 The Paperless One is even more creeped out after hearing that nine people were "brought to justice" over the cheap construction of the hall, using what is known as the "Pal-Kal" method, and that the trial proceedings were even interrupted by a nearby car bomb (a bomb, in the Middle East, surprise, surprise).
What shocks the hell out of the Paperless One is that the writers of "The Macarena" were not also brought up on charges. If they could find the people who invented the "Pal-Kal" method of building cheap structures, then Israeli authorities could certainly find these guys.
We'll help:
The two 48-year-old singers, Antonio Romero Monz and Rafael Ruiz are duo from Dos Hermanas, a small town close to Seville in Spain. They had recorded more than 300 songs since they began their professional career in the 1960s, many in the pop-flamenco style popularized in the US by the Gypsy Kings.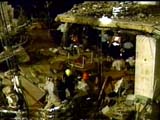 That should help. If it weren't for the mass trampling of hundreds of Macarena-dancing revellers, then even a "Pal-Kal" floor may have held up and prevented such a tragedy.
The Paperless One knew it was the dance of Lucifer all along...