There's a strange man on the track...
July 29, 2001
Remember Robert Sehli?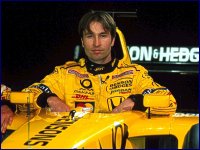 He was the guy who, in protest of being sacked from a Mercedes-Benz manufacturing facility, made a statement by walking onto the track at the 2000 German Grand Prix.
This "statement" actually had a negative effect on Mercedes-Benz, as it brought out the safety car, and essentially changed the pace of the race, allowing Rubens Barrichello to take the checkered flag in his Ferrari. Some say that this single event may have tipped the scales for the remainder of the season, robbing Mika Hakkinen, McLaren, and Mercedes-Benz of the 2000 World Championship.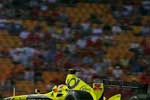 Just this week, Eddie Jordan fired their #1 driver, Heinz-Harald Frentzen. The Paperless One was expecting to see HHF, now sidelined from the German Grand Prix this year, wandering onto the track, possibly burning an effigy of a little 4-foot tall Irishman! Such was not to be, but Germany made its disapproval known, with a barrage of signs and flags sporting slogans like "Jordan Go Back Home" and "Eddie Sucks", after hearing the news that the German was sacked from the Jordan team only 4 days before his home Grand Prix.
Replacing HHF at the German Grand Prix was test driver Ricardo Zonta, who had filled Frentzen's boots in June at the Canadian Grand Prix after Frentzen, who had this to say in his online journal, crashed just 50 feet away from The Paperless One on the Friday practice:
(06/08) Generally speaking, the practice on Friday was quite okay. The car felt good, everything went just fine. At the end of the session I tried some new tyres as well. What was certainly not that good was the very last minute of the practice: I was not running at full speed and was for sure not at the limit at all. But exactly at the same place I had my crash in 1999, somebody put dirt on the track. Under braking I lost the rear of my Jordan and hit the barrier really hard. The impact was heavy but my physio Andy started with his massage right after the session. So I´m sure I will attack again in qualifying.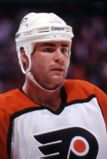 The qualifying attack didn't happen. Frentzen gave up his seat after suffering a relapse of the headaches and dizzy spells that have plagued him since his accident at the Monaco Grand Prix. Just two months later, his team cans him. No one can comment on the issue, because HHF and his people are seeking legal retribution over what appears to be a team dumping a concussion risk from their liabilities.
Who said the hockey season hasn't started?