I've got my thumb heeaah!
February 25, 2001
Greetings, Paperless fans! This week, we take a look at Steve Irwin, the "crocodile hunter".
The first time I heard about Steve was on the episode of "South Park", where Cartman mimicked his Australian hero and stuck his thumb up the ass of any animal he could find. Little did I know at the time, that this crazy Australian was an actual TV personality, not far off from the parodied version on the animated series.
Steve, in real life, goes chasing crocodiles around Australia, and now, thanks to his new fame and fortune on the Discovery Network, all over the world. He may even show up at your house looking for crocodiles!
This is Steve's year - the CBS series "Survivor" is located somewhere in Australia for its sophomore season, and it's been a long time since "Crocodile Dundee" or Yahoo Serious, and all has since been forgiven or forgotten about them. This doesn't help explain people's fascination with Steve, though. Perhaps it's the goofy "kid in a candy store" look that he gets on his face whenever he spots a crocodile. Perhaps it's the anticipation that he may get his thumb, or worse, chomped off by one of the toothy creatures.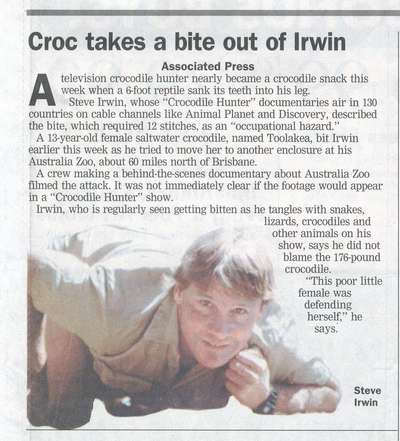 People, by nature, are "casualty vampires", and watch Steve's show just to see if he's going to get fucked up by a croc this week. Along with that mentality, people also can't resist starting "Steve is dead" rumours, after this recent report of him being chomped by a croc.
Perhaps the creature had seen Steve's show.
Meanwhile, we can only hope that the next croc is just a wee bit hungrier, by cracky, as I'm sure that a collaboration with Paul Hogan is in the works in the not-too-distant future.
Look on the bright side, though. Steve isn't scheduled to make a surprise visit to the set of "Survivor"!
A quick Internet search for Steve-related sites will quickly show you that he seems to have a lot of fans out there. Once again, the Paperless One doesn't understand - are we living vicariously through a "noisy little Australian guy"?
Later, by cracky!